Physical Activity
"The doctor of the future will prescribe no drugs but will interest his patients in the care and nutrition of the human frame and in the cause and prevention of disease" – Thomas Edison (1847-1931)
Did you know that physical activity is important for many aspect of your overall health?  In fact, it is one of the best things you can do to improve your health and prevent illness. Physical activity has been proven to:
Improve mental health
Increased fitness
Strengthen muscles and bones
Help with weight loss, weight maintenance and prevention of obesity
Reduce the risk of many chronic condition such as diabetes, heart disease, stroke and osteoporosis
Help with the management of many chronic conditions
And much more..!
Featured Article
Physical inactivity: the biggest public health problem of the 21st century
Canadian Physical Activity Guidelines Recommendations
CHILDREN (5-11 years old) and YOUTH (12-17 years old)
60 minutes of moderate to vigorous physical activity daily
Vigorous intensity activities at least 3 days/ week
Activities that strengthen muscle and bone at least 3 days/ week
More is better!
ADULTS (18-65 years old)
150 minutes of moderate to vigorous aerobic activity weekly in bouts of 10 minutes or more
Muscle and bone strengthening activities using major muscle groups at least 2 days weekly
More is better!
ADULTS (65 years and older)
Same guidelines as adults age 18-65
Those with poor mobility should perform physical activity to enhance balance and prevent falls
Taken from the Canadian Physical Activity Guidelines, Canadian Society of Exercise Physiology 2011.
Examples of moderate activity: brisk walk, dancing, slow jogging, leisurely swimming, golf, cleaning house, lawn mowing, yoga
Examples of vigorous activity: running, fast cycling, fast swimming, jumping rope, calisthenics (push ups, sit ups, squats, jumping jacks etc…), HIIT (high-intensity interval training)
View Guidelines
Community Resources for Physical activity
Low cost
Various inexpensive fitness centers – many locations across Ottawa – cost depends on membership type and location (approx. 15-25 $ per month + membership fee)
Check out GROUPON site for discounts on fitness centers and classes
Swimming
Check out the city of Ottawa pools for inexpensive public swimming: https://ottawa.ca/en/residents/recreation-and-parks/drop-in-programs
Canoeing/ Kayaking/ Paddleboarding
Canoe/Kayak/Paddleboat/Paddleboard on Dow's Lake, Rideau Canal, and Petrie Island
June to September. Most rentals under $20
 Kid and dog-friendly!
OSSC (Ottawa sport and social club)
Indoor and outdoor sports teams at levels from beginner and up
Adult leagues. Price depending on the sport
Includes badminton, basketball, volleyball, dodgeball, floor hockey, football, soccer, softball and more
Free
Various free running groups throughout the city -The Running Room, Mountain Equipment Co-op and others.
Check out free outdoor equipment around the city such as Street Workout Park – New Edinburgh Park (various bars and abs bench)
Various free or low-cost online fitness videos or applications
Fitness or activity trackers such as 'MyFitnessPal' or 'Strava'
Johnson and Johnson Official 7 minute workout
Landsdowne Farmers Market – Free (unless you buy something)
Sundays | Year round | 9am-3pm
Great place to walk around, get some organic foods, support local merchants
Biking on the Capital's pathways and beyond.  Check out the NCC http://ncc-ccn.gc.ca/cycling for great biking area suggestions and maps
Ottawa river pathway
Rideau canal western pathway
Hiking, walking or running
Gatineau Park:
Ottawa Greenbelt:
Mer Bleue Bog
Pine Grove trail
Greens Creek
Shirleys Bay
Stoney swamp
Pinhey Forest
For seniors (65+):
Better Strength, Better Balance program at various community centers throughout Ottawa.  Call Ottawa public health 613-580-6744 or go online to register:
http://www.ottawapublichealth.ca/en/public-health-topics/better-strength–better-balance–exercise-program.aspx#central
Heart Wise Exercise – list of free or low-cost resources in Ottawa
From their website, select Location and then 'Ottawa' and then 'Find Locations.'  Can filter by program type, cost and languages offered
Champlain LHIN – List of free classes for seniors in the community
Local Community Health Centres offer free exercise programs and dietary information sessions. See what is offered below, or call a Centre near you.
Fun Facts
Physical activity does not have to be an organized sport. It can be a leisurely bike ride, household chores, gardening, walking or dancing. Getting up and moving has health benefits.
Physical activity improves your mental performance and sharpens your memory
Listening to music during physical activity can improve your performance
Physical activity can help prevent signs of aging and boost your immune system
Physical activity can help improve your self-confidence
Physical activity can help you sleep better
Disclaimer
THIS WEBSITE DOES NOT PROVIDE MEDICAL ADVICE
The information and material contained on this website are for informational purposes only. The purpose of this website is to promote broad understanding and knowledge of various health topics. It is not intended to be a substitute for professional medical advice, diagnosis or treatment. Always seek the advice of your physician or other qualified health care provider with any questions you may have regarding a medical condition or treatment and before undertaking a new health care regimen.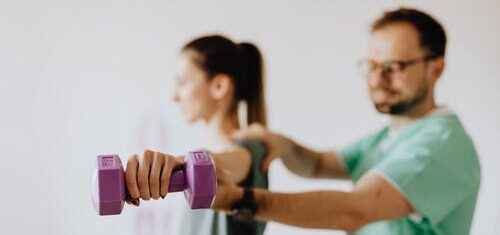 Operated by Ontario Partners in Health