Sports Medicine
We offer a comprehensive range of sports medicine services emphasizing the prevention, treatment and rehabilitation of sports-related injuries of elite, amateur and recreational athletes. We provide consultant based services not only to athletes, but also to patients of all ages and physical activity levels who can benefit from our services. We also offer physiotherapy.
What to Expect
Sports Medicine:  We specialize in sport and exercise medicine, orthopaedic surgery, rehabilitation and physical medicine. Our physicians have worked with the University of Ottawa Gee-Gees varsity teams, Rugby Canada, Volleyball Canada, Hockey Canada, IIHF, Cirque du Soleil, and Tennis Canada.  They have also worked at the Paralympic Games, Pan-Am Games, and World University Games. Our Sports Medicine physicians include Dr. Gary Greenberg, Dr. Marie-Josée Klett, Dr. Valérie Hindle, Dr. Sean Mindra, and Dr. Pauline Lin.
Orthopaedic Surgery: Our orthopaedic surgeons, Dr Christopher Raynor and Dr. Michael Pickell, are specialized in the surgical repair of musculoskeletal conditions, i.e. problems that arise in the skeletal system and its surrounding supporting tissues – ligaments, tendons, and muscles.
Physiatry: Our physiatrists, Dr Gerald Wolff and Dr. Colin Mascaro, specialize in treating acute and chronic neurological, medical, musculoskeletal conditions. Their focus is on restoring optimal function by developing a long-term medical rehabilitation plan individualized to each patient. They address all major systems of the body, treating patients of all ages who have ailments ranging from neurological disorders such as multiple sclerosis, to orthopaedic conditions such as arthritis and tendonitis.
How to Access
Our clinic is open to the public.  If you are a new patient you must obtain a referral from your family physician.  Patients currently registered with BWFHT can book an appointment with your family physician to obtain the referral.
A referral form for sports medicine is available online. Physicians can download it and fill it in.
Once you have obtained a referral, have your physician fax the referral at 613-564-6627 directly to our office.  Our consult coordinator will contact you to book an appointment with one of our sports medicine physicians.
How to Prepare
Bring your x-ray, MRI and/or CT scan results (films or CD preferred)
Bring all relevant documentation, i.e. physician or specialist referral, previous reports if available
Bring assistive devices, braces, splints, or other equipment where relevant
Wear appropriate clothing for your assessment:

Shorts (for injuries involving lower body parts and the mid to lower back)
Sleeveless top (for injuries involving upper body parts, neck and upper back)
Proper footwear, i.e. running or walking shoes
Visit our Appointments page and our Providers and Locations page for additional information on how to prepare for your appointment, including how to get to the Sports Medicine clinic, parking options, and our appointment cancellation policy.
Important Information
Physicians at our clinic will assess and treat WSIB patients with a referral from a physician – please bring the required paperwork, i.e. WSIB, Insurance, Veterans Affairs.
Concussion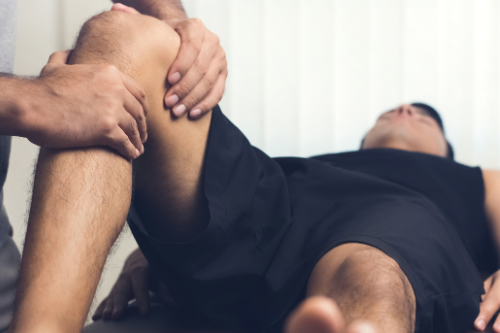 Operated by Ontario Partners in Health